June 3, 2022
What is one of the most important things to know about life settlements and viatical settlements? Both life settlements and viatical settlements are regulated in the U.S. at the state level. That means that either your state's insurance department or financial services department has laws, rules, and regulations on the books that govern a life settlement transaction.
Important Objectives of Life Settlement and Viatical Settlement Regulation
A life settlement or a viatical settlement is the sale of a life insurance policy on the secondary market. Why is there life settlement regulation? The main focus of the regulation is consumer protection, that means the policyholder (in some regulations also referred to as the viator). The key items that are covered by regulation:
Licensure

– requires parties that represent viators (life settlement brokers and viatical settlement brokers) to meet.

Escrow

– requires all life settlement transactions to be funded into an escrow account to ensure that funding is secured before the policy owner files paperwork with the insurance company naming the life settlement company as the new owner.

Fraud Prevention

– rules, depending on the state, that prohibit selling a life insurance policy until either two years or five years after policy issuance. There are exceptions to these rules, including term conversions, loss of job, change in heath, divorce, and others.

Minimum Cash Payments

– regulatory requirements, typically only applicable with viatical settlements, stating the minimum cash payment to the policy owner in a sale.

Disclosure

– outline of the impacts that selling your policy can have on specific items, including eligibility for Medicaid (which can impact qualifications for government assisted long-term care), availability of accelerated death benefits inside your life insurance policy, name of the escrow agent, options to access cash surrender value, and other key items.

Filing of Settlement Contracts

– state regulators review and approve the settlement contract forms and approve them for use in viatical settlement and life settlement transactions.
Remember, these regulatory rules are state-specific insurance laws with licensing requirements governing the settlement business for life settlement companies – both life settlement providers and life settlement brokers. This means that the same regulators that oversee the life settlement industry are the same ones overseeing the larger insurance industry.
What Are Life Settlement and Viatical Settlement Regulations in My State?
Most life settlement and viatical settlements laws are based upon a "model act" developed by the National Association of Insurance Commissioners (NAIC). The NAIC is the U.S. standard-setting organization governed by the chief insurance regulators from the 50 states, the District of Columbia, and five U.S. territories to coordinate regulation of multistate insurers. The NAIC issues updated bulletins from time to time regarding the model act.
What are the life settlement and viatical settlement regulations in my state? See the chart below for the regulatory rules in your state: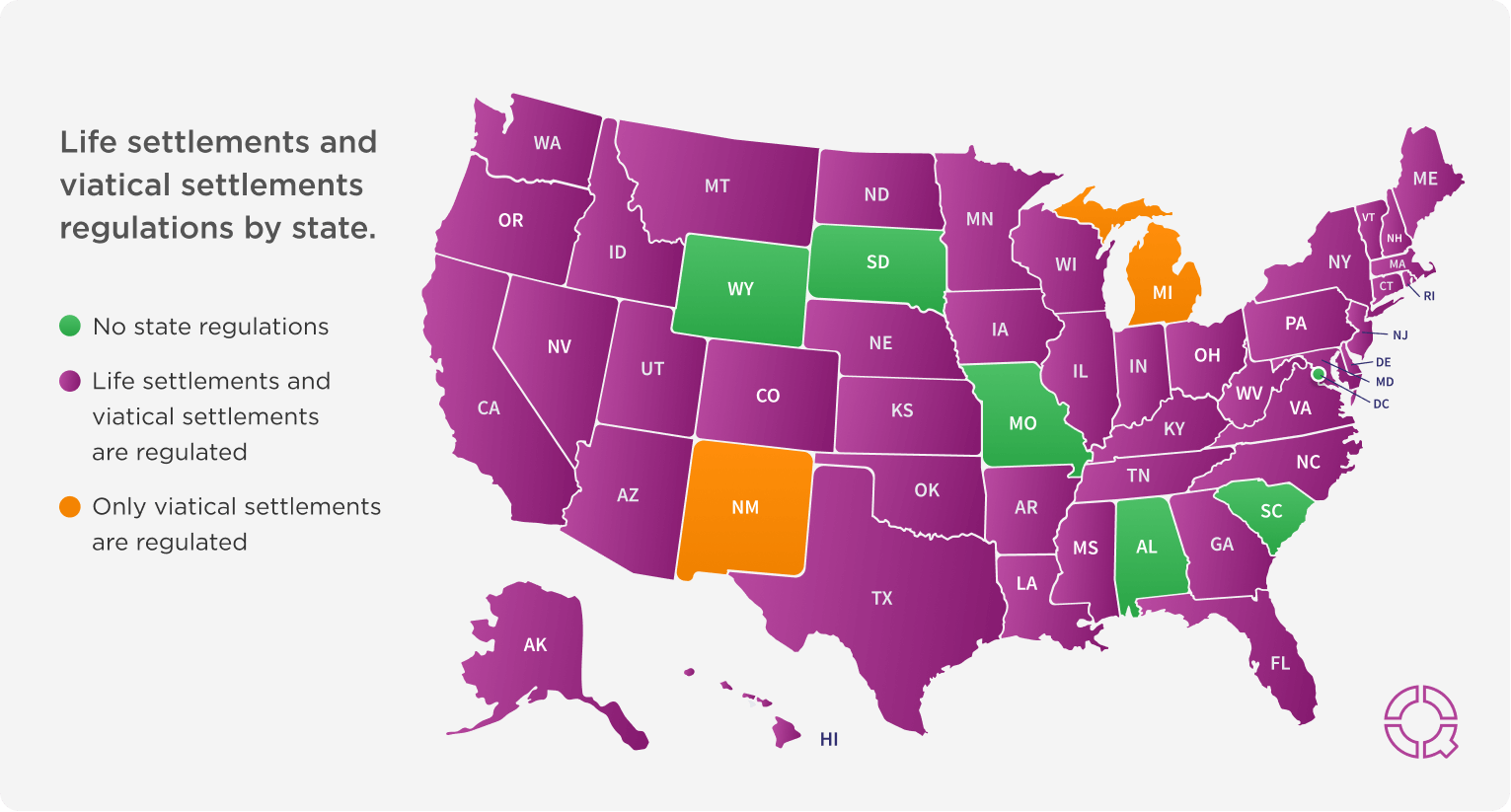 Important Life Settlement and Viatical Settlement Facts
A couple of things to remember about a life settlement or viatical settlement:
Ownership.

When you sell your policy, the insurance company will no longer recognize you as the policy owner.

Death Benefit.

When your life insurance policy is sold, your beneficiaries will no longer receive the death benefit (face value) from the life insurance company when you die.

Premiums.

After you sell your life insurance policy, you will no longer need to make any premium payments.
What's the difference between a viatical settlement and a life settlement? Each state defines the exact distinction a little differently, but, generally, a viatical settlement is when the insured on the policy has a life expectancy of 2 years or less (or is considered to have a terminal or chronic health condition without an expectation of recovery). A life insurance settlement applies when the life expectancy is greater than 2 years. Life expectancy is calculated through an underwriting process that includes a review of your medical records and medical information.
What is the Size of the Life Settlement Market?
How big is the life settlement market? According to Life Insurance Settlement Association (LISA), the life settlement market was estimated to be $4.0 billion in 2021. The life settlement market is expected to grow in 2022 and beyond, as more consumers learn about this exciting option to a cash surrender or lapse of a life insurance policy.
Ready to Help Your Clients Explore the Sale of a Life Insurance Policy?
You can get an instant estimate of the value of your client's life insurance policy by visiting the LCX Life calculator. You can also call LCX Life at 888-388-0988, contact us here, or email us info@lcxlife.com to discuss your client's situation. Our team is available and ready to explain to you all that you would want to know about life settlements. Remember to visit our Life Settlement Genius portal for client materials and additional information.
Remember: Never let your clients abandon a life insurance policy without looking at the life settlement option first!
Want To Learn More?
Contact LCX Life